Flirt4Free reviews – Filling in the Blanks

IS FLIRT4FREE A SCAM?
NO! Flirt4Free.com is a trustworthy business and has millions of customers now. I would also be amiss to not say that Flirt4Free is perhaps one of the top 3 adult webcam site online right now as far as trajectory goes. The fact is this site has been VERY successful at wrangling some of the most beautiful cam models in the world. Flirt4Free is growing rapidly as far as daily visitors and becoming the top cam site or one of the top cam sites online. We currently rank flirt4free 6 spots behind with Streamate.com and sliding going into 2018. (Our top pick still goes to that leading site). This flirt4free reviews was republished with major updates on April 21st 2018.
FLIRT4FREE CAMS PRICES:
Flirt4Free is not the cheapest sex cams site online. Instead this cam site targets those of us who like a quality experience with very good-looking cam models. The average price is near $5 per minute though and that can go up fast if it's a live pornstar cam show that you are after. This begs the question is the value really there for using this site long-term? Assuming it's just a girl next door type you are after, you can find a huge selection here in that price range but the costs are in our opinion too high when you can find the same quality model on Streamate.com for much, much cheaper prices.
FLIRT4FREE CAMS FEATURES:
It can though still be said that Flirt4Free is a refreshing experience from the trashier cam sites as they do truly focus on a clean interface that focuses on the ladies and how to best interact with them. They have all the best features of top adult webcam sites but some very unique things that make the site a lot of fun to use.
Specifically they have adult webcam awards that pit the ladies against each other to keep the men satisfied. I should also mention that there are male and transsexual cam model here but the focus or majority of the business is done between men as the customer and women as the models. Anyway, here is a list of some of the best features to be found at flirt4free.com.
Vast search capabilities with unique cam niche searches such as live spanking cams and European webcam girls as well as many others.
Model Spotlight – a cool way to feature top cam models
Discount Days – special deals for lower prices
Photo Archives – photos of sex cam models on this site for you to browse
Flirt of the year – top annual webcam model
Fan Clubs – directly through the site you can become a fan and the model will share exclusive content with you. Is it a upsell? Yes, it is but it is still neat that this is all housed with the same site.
SCREENSHOT OF FLIRT4FREE.COM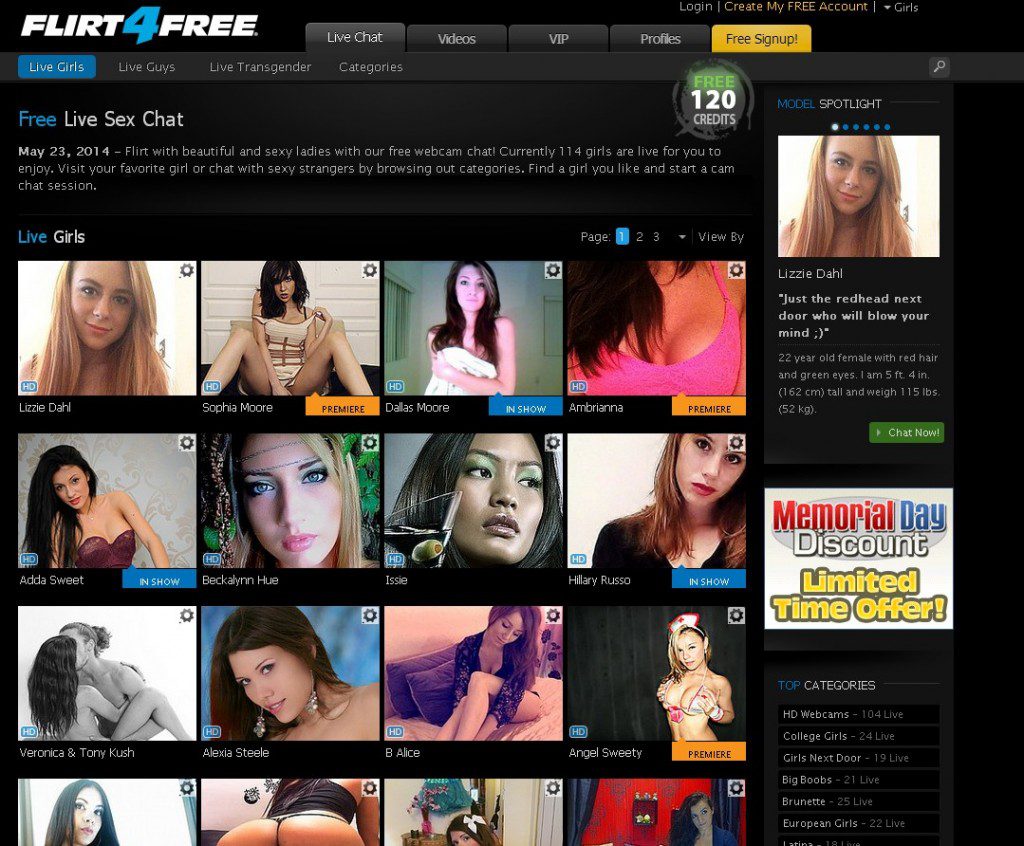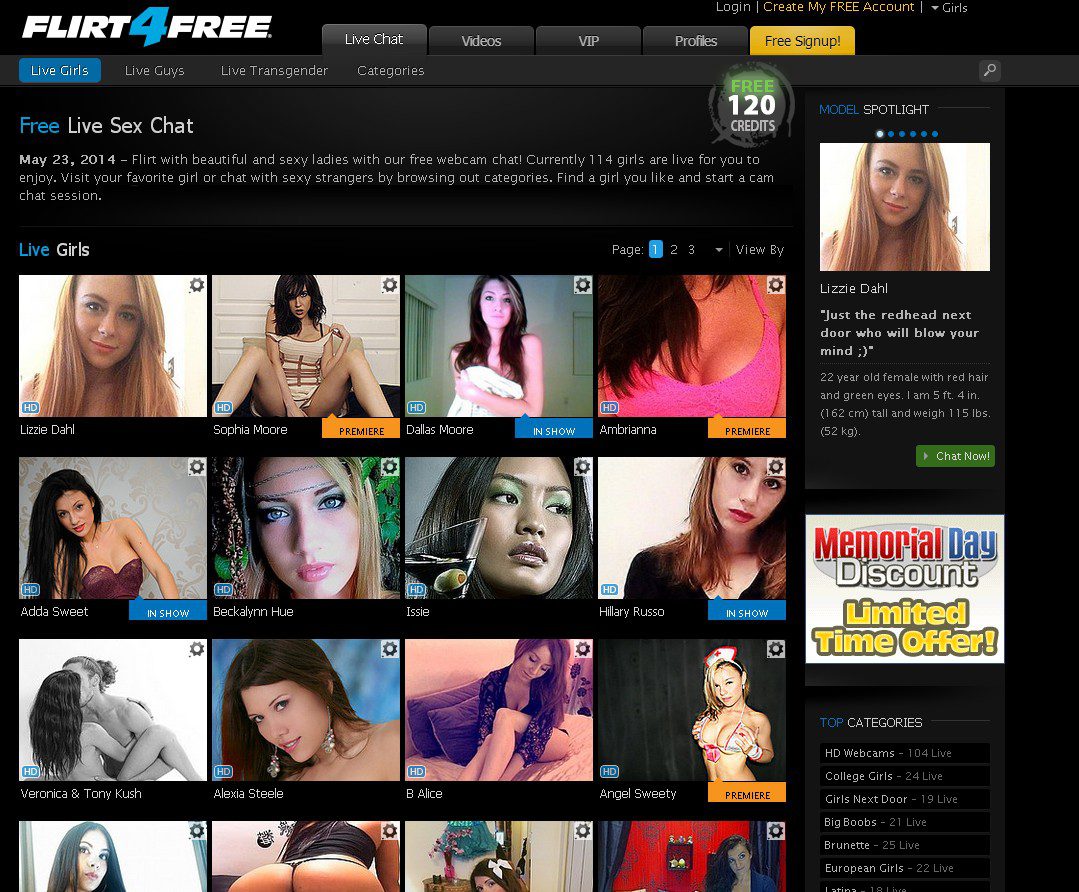 SITES LIKE FLIRT4FREE
The truth is there are really no other sites like those that rank in our top 3 rankings from the aspect of having so, so many truly gorgeous cam model and so much focus on a high end user experience. Therefore, it comes down to getting the best prices! Streamate, then Jasmin, and lastly Flirt4Free offer the best experiences. However, due to costs we still rank Streamate quite a bit ahead of this site based on the total value you get for your money. While Flirt4Free is a classy webcam site, I can't see users staying here for long when you get a good bit more for your money on our top two sites.
CONCLUSION & FINDINGS ON FLIRT4FREE REVIEWS:
All of the top 3 sites offer a reasonably solid value for men who are a bit selective, but again streamate has the same engaging features for allot less of your hard-earned money and more models. When you register and explore those features, I think you will agree that this site does not measure up in that respect. As a result we have recently moved this site down in our rankings. The nod still goes to Streamate.com as top overall site and Jasmin at #2, but if you are already a member there, this site is worth giving a try for sure.
Try Flirt4Free here: