Is bimbim any good? Discover some interesting facts about this video chat site and find out why it's receiving a hell lotta traffic.
Anybody who is an avid viewer of porn must have already ventured into live sex webcams because of their immersive approach. In case you haven't, start off with the top cam porn sites across the web.
As the year is ending, I thought it was time to check out fresh webcam sex sites and I found bimbim which piqued my curiosity. I tested it out for a week and I gotta say I am quite impressed with its usability and features.
BimBim Overview: A Ground-Breaking Adult Site
BimBim is a newly developed cam site and is a cobrand of LiveJasmin. You can read our LiveJasmin review that talks in-depth about why millions of wankers swear by it.
Most of the cam girl sites have a common theme and site layout but bimbim differs in this aspect. It has the same cherry red background but the setup is streamlined which makes it appear like an interactive social media platform.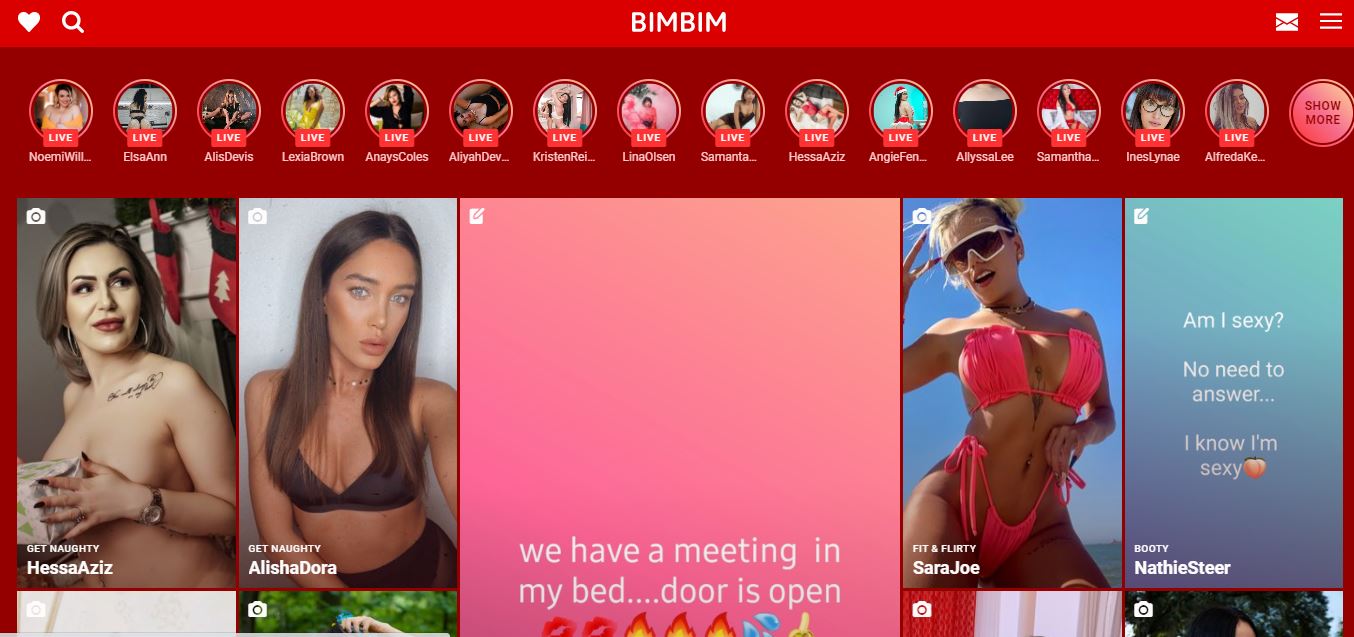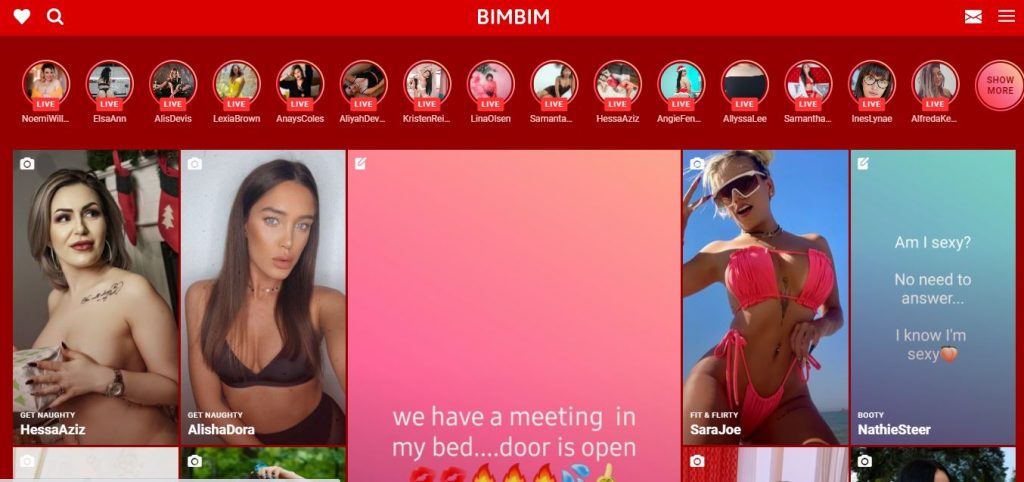 It is safe to say bimbim is giving tough competition to subscription-based adult sites like onlyfans. Honestly, I love the choice of colors bimbim has, it is almost like you are using an updated version of LiveJasmin.
The layout of this cam porn website is well structured making it a cakewalk for any first-time visitor to navigate through the site. Indeed, it's a delight to see thousands of genetically blessed women streaming from different parts of the world, giving us a peek into their happening lives.
From alluring Latinas to chubby chicks to sexy Ebonies, the variety is overwhelming, and trust me, you will feel like you are in a paradise that's overflowing with desirable women.
At any given time, you can find over a hundred babes performing live. The icons of models streaming live are displayed at the top of the front page, what's more, you don't have to pay a penny to enjoy the live streams.
All in all, BimBim.com has an interesting take on webcam sex and will get you hooked right from the beginning.
BimBim Features – Registration, Interface & Functionality
Signing up on bimbim:
To get started, you just need an email address. Pick a username, add your email address along with a password.
BimBim also tries to attract users with exciting offers. 30 free credits are availed as soon as you create your account which is pretty cool.
Stories:
BimBim mimics the Instagram stories but here, you get uncensored content featuring beautiful chicks posing in lingerie, playing with their naked bodies, or dancing sensually.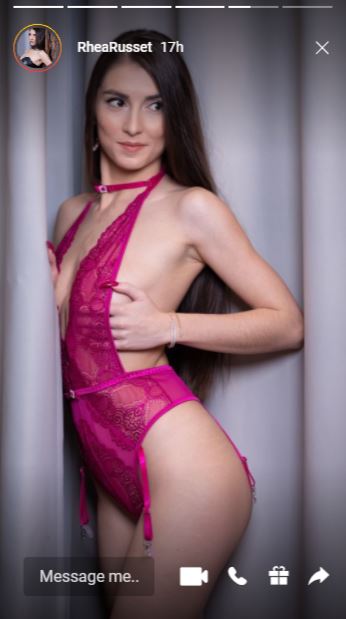 Check out the top creators posting the raunchiest stories you will ever see. From stripping to masturbating, things can get pretty hot here.
With credits, you can react to their stories and interact with them via chats. To connect on a more intimate level, users can also share video messages, or engage in one on one video calls.
If you enjoy your time with a hottie, be generous and shower her with surprise gifts.
By the way, a bunch of you broke-ass dudes asked if there were places to watch sex cams for free. Fortunately, we have a dedicated list of cheap live sex sites that don't charge you a dime.
Live streams:
BimBim.com live streams are the cream of the crop because you can expect a lot of nudity here. Some of the babes are resting on the sofa, half-naked and flirting with their audience.
While a few of them are super horny, so it won't take long for them to go nude and toy with their assets. I bet you won't be able to hold your jizz when you see a curvy woman twerking or lesbians pinching each other's nipples.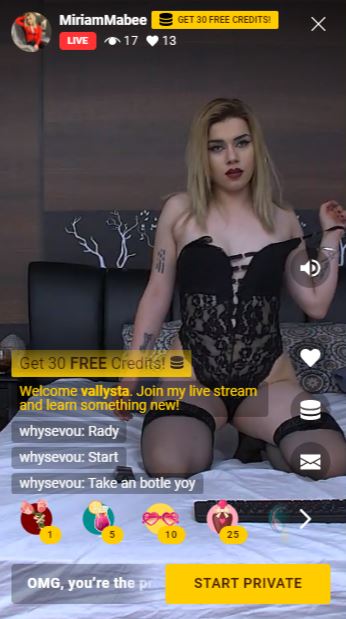 I found some freaky cam girls masturbating outdoors! Can you beat that?
Man, last weekend, I had a cumworthy experience with ToriBrown, a friendly chick who loves to dance for her viewers. I knew there was something incredibly sexy about her, so while we were on a private video call, I asked her to perform a strip dance.
She truly was a goddess with all her exotic moves, things heated up when she started rubbing her wet cunt screaming my name.
Models have premium highlights on their profiles, where you can expect wholesome sexually explicit stuff. Of course, you will need credits to unlock them because all good things come with a price.
What I liked about BimBim:
A user-centric interface that promises excellent quality.
Users get a lot of promotional offers like free credits on signing up or purchasing credit packages.
HD webcamming quality.
A phenomenal collection of cam models.
Summary: Is BimBim Legit?
It is fair to be skeptical about trying out new sites and when it's adult content, the risks of being ripped off are twofold.
So that brings us to the most important question, is bimbim legit? Well, I have already mentioned that LiveJasmin.com is the mastermind behind BimBim.
Therefore, if you are considering trying this video chat site, you can be assured that you are in safe hands. Clearly, BimBim.com has impressed me and I am definitely going back to it for more.
I mean, in real life, you don't get to see such alluring women performing risque acts and going candid for the camera, right?
To sum it up, I am giving a big thumbs up to this social media porno site and would urge you to give it a spin.
Once you are done unloading your cum on BimBim.com, you can go over to the nude cams and see how sexy naked chicks are taking the internet by storm.
Lastly, we think you need to add some action to your sexually deprived life. So how about blessing you with Instagram handles of the hottest women in the world?
That's right, we have picked the best of sexy Instagram chicks and added them to the top 10 sexy Instagram babes. Enjoy!
Learn more about LiveHDCams in our elucidated review here.