CamSoda Reviews, How it Compares!

Is CamSoda.com a scam or a safe site:
CamSoda is a secure and legit cam sites that has been in operation since 2011. For over 5 years now this cam girl chat site has been growing in popularity by adding new functionality and via creative marketing, but they still offer some of the unique aspects they started their video chat platform with such as the voyeur cams house. This particular adult video chat site is operated by a online dating company called DatingGold and that is why the advertising spots on the cam site often feature dating site advertisement. Most of the time those are also websites owned by the same company. Just so you know we do not advise you use the dating sites but as you will read in our camsoda reviews below, their live sex cams are actually pretty fun. We explain why and what CamSoda has to offer in this review.
First of all it can't be said of many cam sites that they are growing and getting more popular but in fact CamSoda.com is a nude video cam site that is growing at a pretty solid clip. This is documented as well by the following search chart showing the numbers of people searching out CamSoda.
Screenshot of the CamSoda home page below: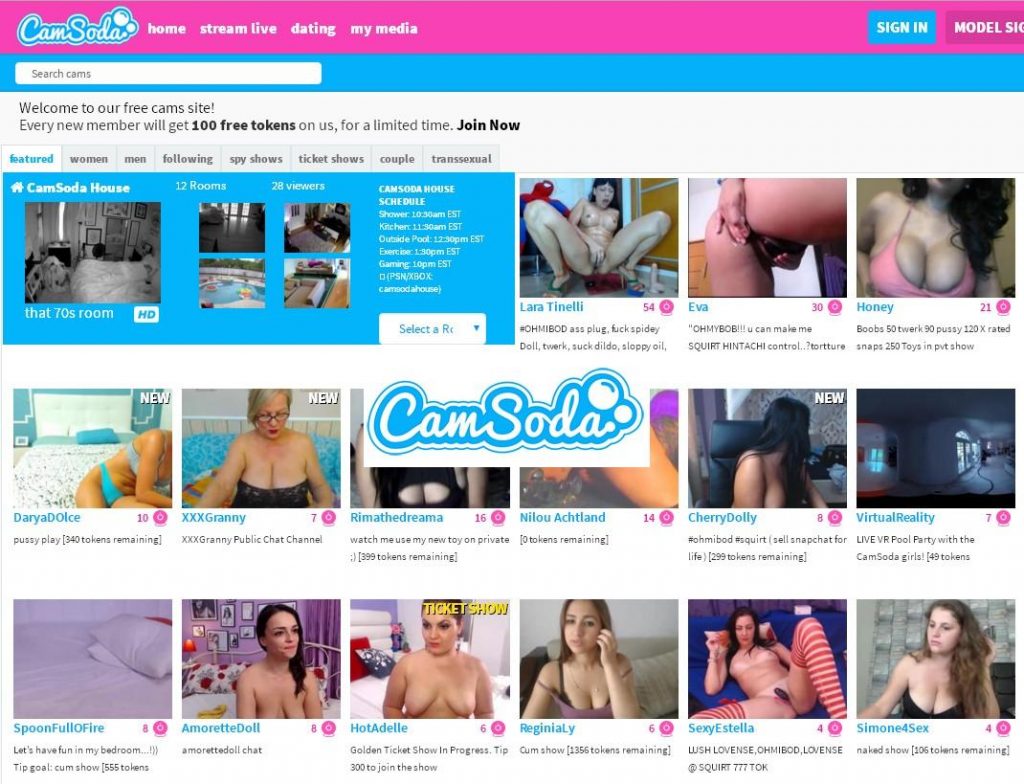 CAMSODA PRICES:
Below you will see the costs for tokens at CamSoda.com runs 10.09 cents. Models of course do not get all of that, as the cam site takes their cut. Models end up with about 6 cents out of each dollar spent by the user. You can also save some money with the 200 tokens package if you opt for the membership. The issue we have is paying for memberships really doesn't offer much added value so we suggest sticking to packages of token as those do not expire. One thing that is kinda cool about CamSoda is you can buy a cam girls snap chat here and even purchase cam girl videos for later. However, you don't automatically get a recording of your adult webcam show with a cam girl which is one of the neatest aspects of the similar cam site called Chaturbate.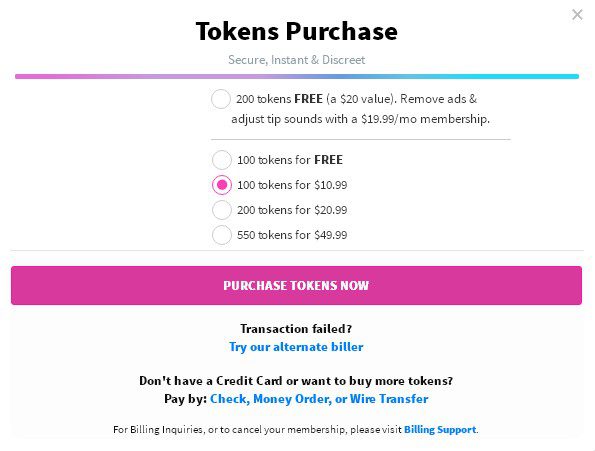 CAMSODA FEATURES :
Exclusive featured videos, regular contests particulary for major American holidays, Dani Daniels Podcasts, occassional live webcam gang bangs and other unique things are often found at CamSoda.
CamSoda has VR webcams but their very limited in functionality and are more of gimmick to be honest.
CamSoda does offer a voyeur house but it's often empty and has limited views. The time if takes to see anything of interest really doesn't make for much of an attraction without the fact that the site offers live cams for adults. I suggest you stick to the cams.
The sex cams aspect of CamSoda is the real draw and it is a fun site to chat on cams. CamSoda does focus alot of energy on retaining some particular types of cam girls. Those who are famous, hot new pornstars, and older famous American porn models are often given special deals to broadcast live cam shows at CamSoda. CamSoda recently had a show that was heavily promoted for Farrah Abraham to appear and do anal sex on cam. The show was cancelled and CamSoda gave refunds. The real story is that most thing this too was a planned pr stunt.
SITES LIKE CAMSODA.COM :
CamSoda is a little bit like both StripChat.com (reviews at that link) and Chaturbate.com (reviews at that link). The similarities are the use of tokens and/or credits and the aspect that the shows are more based around publicly view-able live stripping shows online over more private adult sex chat on webcams.
CONCLUSION & FINDINGS ON CAMSODA REVIEWS.
CamSoda is a fun adult video chat site and sometimes has some highly sought after top porn models on live cam shows. However, CamSoda is a very small platform with a fraction of cam girls you'd find on Streamate, LiveJasmin, Chaturbate or the other goliath cam sites. That is just using being totally honest and not a bad thing.  As a matter of fact the 500 or so cam girls you usually find logged in at any given minute via CamSoda is clearly more than enough to say the selection is in fact great. Yes, CamSoda is lower in our cam site rankings and Streamate.com is the #1 overall cam site but we still would by all means suggest you give CamSoda a try. Also realize there are hundreds of cam sites online and our reviews and rankings site focuses on just the top video chat sites for adults. Totally check CamSoda and claim their free tokens offer to give it a spin, but just be aware of the differences in selection and billing methods. Also if you are looking for cam sites like CamSoda using tokens you may want to compare the similar new live sex cams site called StripChat. Our StripChat reviews share some of the similarities between these two cam girl video chat sites.