xcams.com reviews
Is xcams.com safe or even worth joining?

Do you ever think it's funny how some live cam site reviews websites say positive things about all sites? Let me fill you in the truth. In the small print webmasters receive a small fee if they refer someone to a site if that person signs up. This has really destroyed honest reviews and that was one thing that inspired us to launch adultwebcamreviews.org.
XCAMS.COM PRICES:
The model used by Xcams.com is a bit different from you may expect from the U.S. centered adult webcam sites. What I mean it that you are paying flat fees here across the board for packages and not a dollar sum per minute. That being said it is still a safe and secure site albeit not our top pick. Things do change though and we have seen Xcams gain models and with that users as well. This being said it is more popular in countries like Sweden, Norway, Germany, and Italy and not in our list of top cam sites yet either.
Updated in June 2019: This cam site has declined substantially both in regards to total users and most of all in number of cam girls. As they have lost performers to better adult webcam sites they have stopped staying up to date on the latest features available on other live sex webcam sites. It's a solid pass!
XCAMS.COM CAMS FEATURES:
They do thing a little differently on xcams and as you will note in the photos below the main featured languages are Spanish, German, Italian, and Dutch. This is as I said above it's a popular site but mostly in countries that speak these languages. However, at least 70% of the models do speak English as well. Also as noted below there is always a decent selection at XCams.
Selection: Couples, gay male cams, and of course female performers are offered as well as couples sex cams
Search: They have a unique scroll bar to search by age that no other adult webcam site has
HD Adult Webcams: You can also search here by quality which lists high def adult webcams first.
Customer Service: Support is solid and replied in 3 hours the only time we ever used it
Payment forms accepted: All major credit cards are welcome as it Payoneer at Xcams
CONCLUSION & FINDINGS ON XCAMS REVIEWS:
If you find yourself a bit burned out on the same scenery of the other adult webcams sites this is a great way to mix things up. There is no monthly or hidden fees and xcams is certainly not a scam. Review the latest notes. There are typically no more than a handful of models here at most times. In our opinion there are too many great alternatives to waste your time at this drab site.
 screenshot of xCams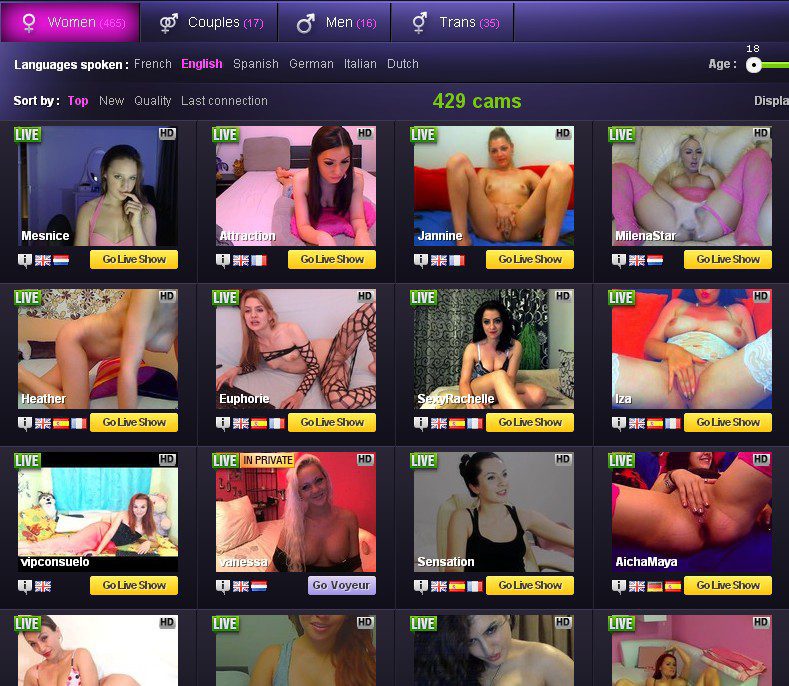 You can try xcams here.

…or you can return to the adult webcam comparisons and see which adult cam site are the top in the industry! Complete Live Cams reviews are here.