Chatib is yet another free chat platform designed for fun conversations with strangers. Wondering if chatib is a reliable free chat site or a scam? We took our time to dig through the features of this chatib and created an in-depth review. 
Chatib Review
Well, like most of the chat sites, chatib is also a free one that lets people engage in conversations without any prior registration. You can either sign up or simply log in as a guest. Most of the individuals join chat sites in the hope of meeting someone interesting or out of boredom. 
However, visiting this free chat line will only increase the boredom to a whole new level. The site is easy to use but you cannot deny the fact that it is dry and boring. A few minutes on chatib and you will be at your wit's end. 
Can you expect an elite chat experience on chatib.us?
NO. What you can expect is an outdated website filled with irksome advertisements. You will find that the pages are unresponsive and sometimes take a while to load. You will get to know more about this lame site's performance as we go balls deep into the features.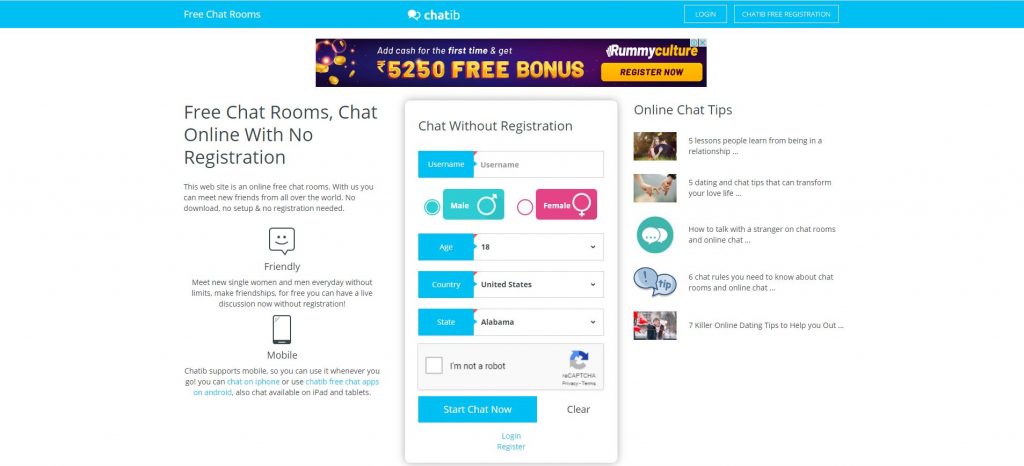 Chatib Features
Chatib is designed in a pleasant blue and white background but as they say, first appearances deceive many. Don't be fooled by how the site appears because the functionality of chat ib is shoddy. When you enter the homepage of chatib.us, a box appears that says chat without registration.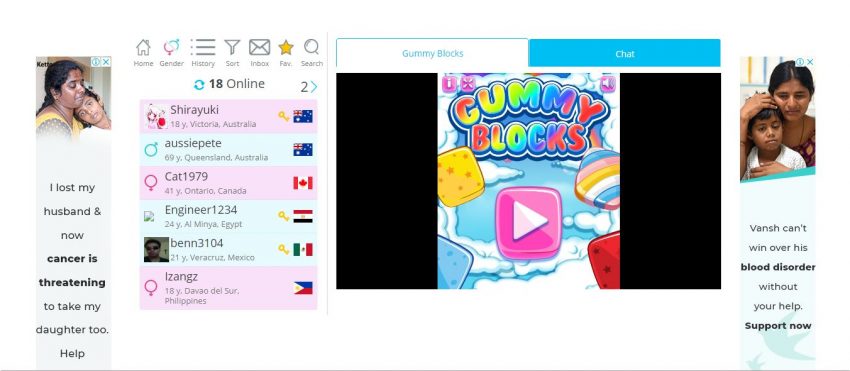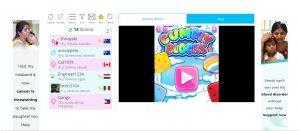 You have to enter a username, gender, age, country, state and you are good to go. The following options appear when you enter a chat room:
Home: Directs you to the homepage of the chat room.

Gender: You can filter the users by male or female as per your preference. 

History: With this tab, you can view your chat history. 

Sort: This option can be used to refine the users by cities or shuffle. 

Inbox: The incoming messages on chatusa are stored here. 

Favorite: This is a feature that is accessible only to registered users. Let's say a miracle happened and you found an interesting person on chat ib, you can add the person to your favorite's list. 

Search: You can search for the other members in the chat room by username, gender, and country.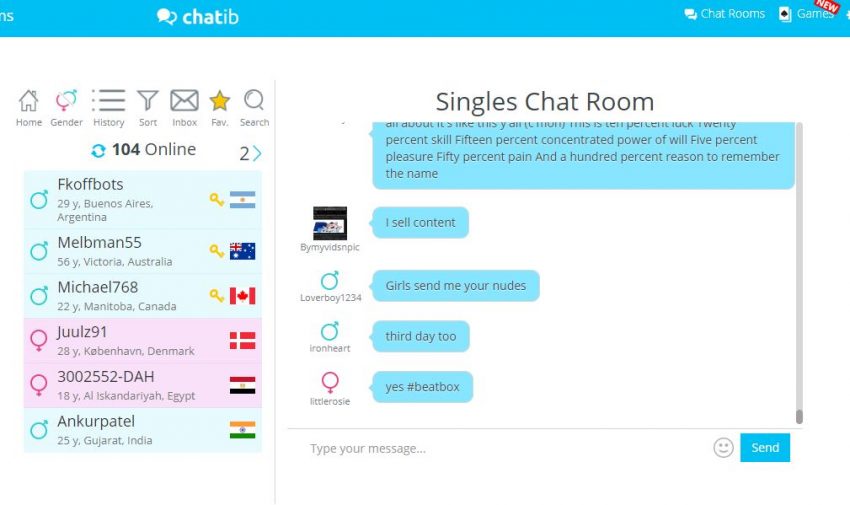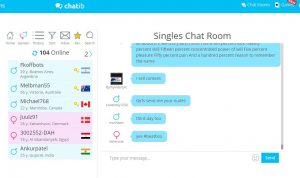 Chat rooms available on chattusa are:-
50+ chat room

College chat room

Dating chat room

Mobile chat room

Music chat room

Philosophy chat room

Politics chat room

Religion chat room

Singles chat room

Sports chat room

Thiscrush English

This crush Italy  

This crush Spain
Chatib also features some games and a chat room for each game which is lame in my opinion. I mean come on, nobody would have the time for these games. There are several trashy random chat sites you should know about so that you keep a safe distance from them.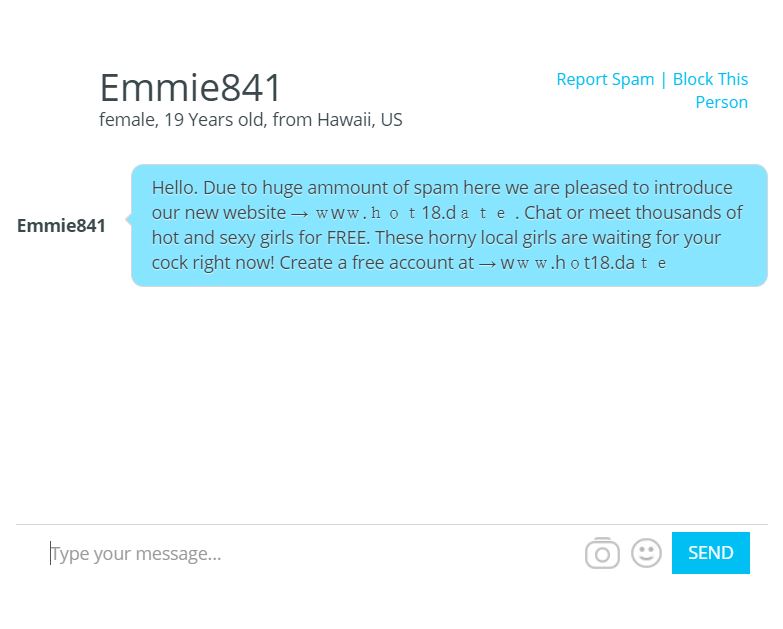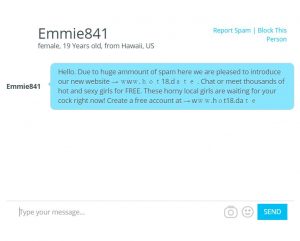 Why is Chatib mediocre?
In several instances, you will see that the pages freeze which is a bummer. One issue I faced was that the Captcha would work after numerous tries and it was damn frustrating. Chatib does not have much in store when it comes to exciting features, which means you are served a big platter of humdrum. 
The chat rooms are an endless cycle of perverts asking for nudes or bragging about their dick size, so don't expect any decent conversation. Despite being warned to not disclose any personal details, a lot of users share their numbers and social media handles oblivious to the fact that it can lead to some serious mishaps. 
If you are looking for sexy babes to chat with on chatib, you are wasting your time. Well, you can find the hottest pornstars here, thank me later. 
Chatib Findings & Site Summary
Another key point to highlight is that the number of fake users on chatib is overwhelming. You will come across a lot of girls asking if you are up for a dirty chat among which 90% are fake profiles created by losers who were bored as fuck. The lack of valid registration encourages idiots to create numerous profiles and annoy others. 
When you think it can't get any worse than this, chatib surprises you with more trash. Chatib claims that it has a dedicated app for android as well as iPhone users but it is a lie. There is no such app available, well I am literally out of words. 
Chatib with its desktop version was enough to annoy us and I have no idea why these dorks brag about their mobile app when there is none in reality. This speaks about the authenticity of chatib, a scam fooling people and it is an utter disappointment. 
No wonder chatib and chatrandom are Bobbsey twins that are competing to be the worst chat sites and in the end, share the first prize equally. If free sexting is what brought you on chatib.us, then I can say that it would have been a futile attempt. No worries, we have the best recommendations for people looking for a dirty chat with hot girls. 
Chaturbate is your go-to place for online free chat with beautiful ladies. What's more? You can also watch them stripping while you chat. When I think about live sex cams, Streamate instantly pops up in my mind for obvious reasons. 
The amateur babes on Streamate.com are too hot to handle and you will be blown away by the huge variety of fetishes this place offers. The sexy Goddesses performing live at LiveJasmin.com will provide your dick all the attention it needs, so don't forget to check it out as well. 
Chatib, despite being used by several countries, lacks active users and this makes it a boring site. The inbox is stuffed with creeps wanting sex which is a major drawback of a site that claims to offer a safe environment for the users. 
Chatib is the trash that you should refrain from stepping on if you don't want to ruin your day. Likewise, check out our top recommendations for the best live cam sites that offer a quality live streaming experience.