It is no secret that men and women love to indulge in sex chat, even though most of us like to keep it under the radar. While you find so many free sex chat rooms on the internet, not all of them are safe and legitimate, which is why we update you with the best as well as worst of adult chat.
321SexChat Review
321SexChat has different free chat rooms for everyone, be it a teen wanting to jerk off on a sex chat or lesbians in a clit banging conversation. So is 321 sex chat any different from the usual adult chat rooms?
Well, the answer is no, to be frank. Now, the reason why I say this is most of the people looking for sexchat wouldn't want to waste their time on a cluttered site. In other words, nobody would want to be on a site like 321SexChat.
The homepage of 321SexChat.com is nothing but a lot of icons piled together. This gaudy site is home to adult chat rooms as well as free adult form aka live sex cams. Let us now dig deep into the features of 321sexchat.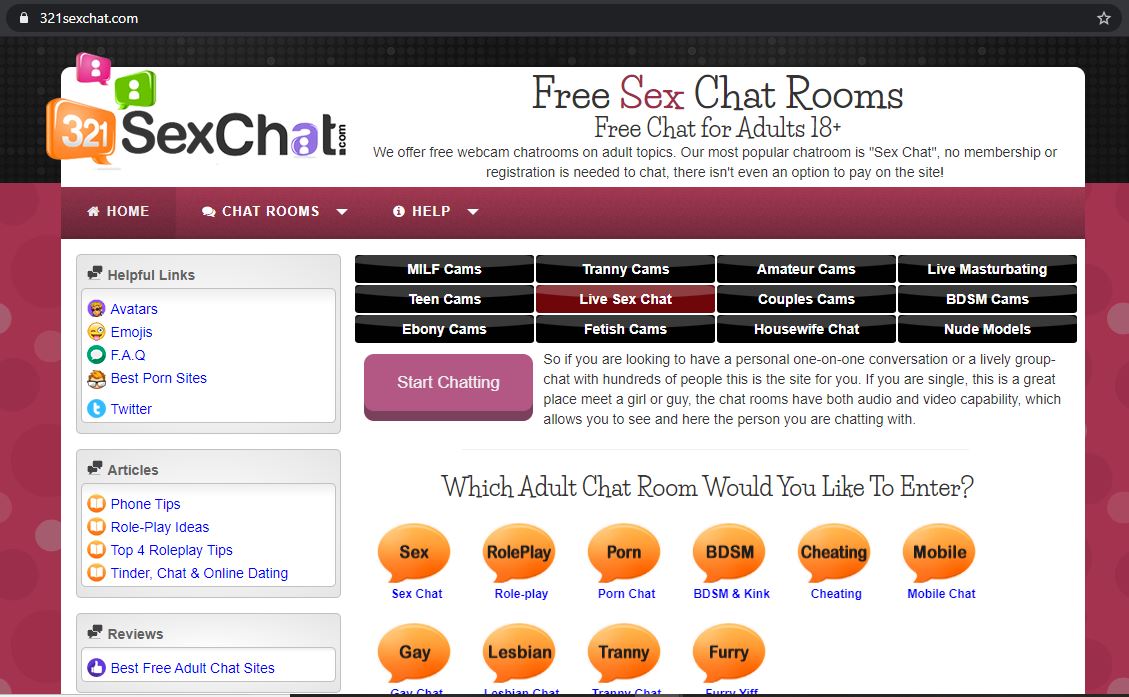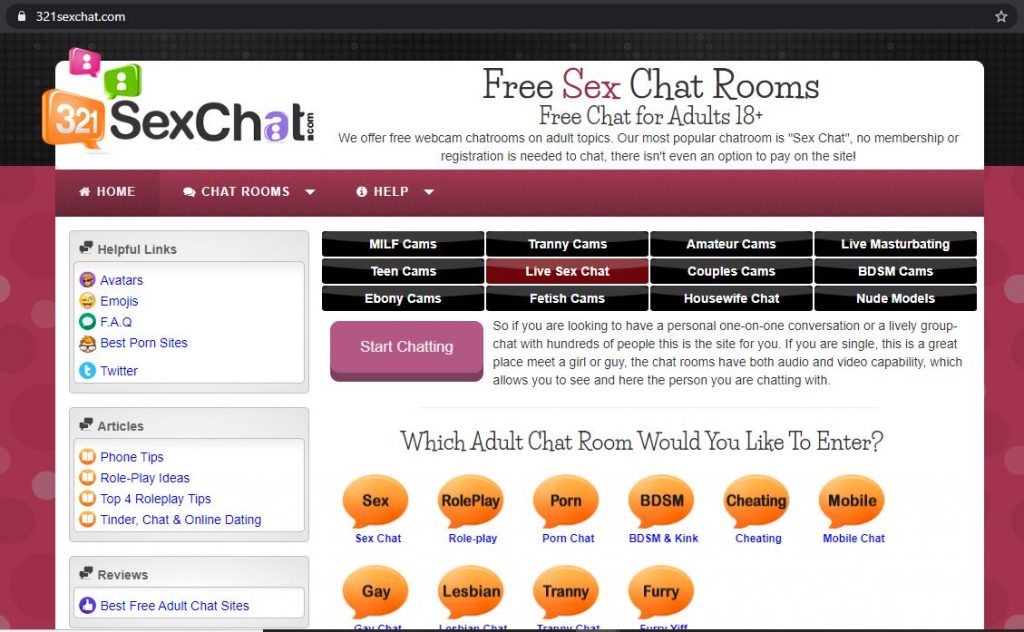 321SexChat Features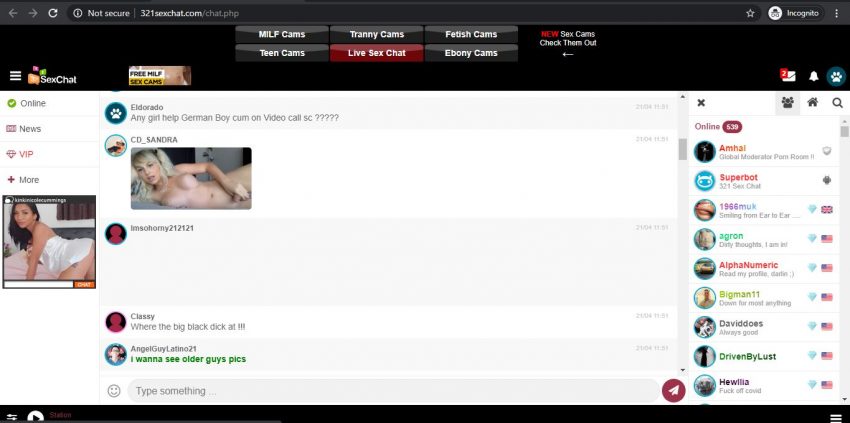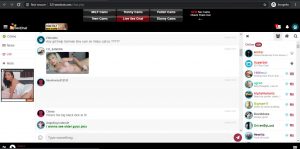 Once you enter 321SexChat.com, you will be welcomed by an unpleasant display page, filled with a gazillion of icons. These are the chatrooms you will find on 321sexchat:
Sex chat: If you want to rock your cock on a dirty chat, try this room.
Roleplay chat: This is a fun way to spice things up. You can take your sex chat experience to a whole new level by dressing up as different characters, a sexy doctor, or a hot maid. They have a list of roleplay scenarios you can take inspiration from.
Porn chat: Share your fetish with other users here. In this chat room, you can share pictures of sexy babes that turn you on.
BDSM chat: Not everyone likes BDSM, but there are a good number of people who get pleasure in pain if you know what I mean.
Cheating chat: It is downright shocking to see that 321SexChat has a chat room dedicated to cheating. I mean, seriously it's pathetic that they are beating the drum for indulging in an illegal affair.
Mobile chat: 321SexChat.com has a mobile version for people who want to sext on the go.
Furry chat: This is a lesser-explored genre of sex chat. Furry yiff porn involves people roleplaying as fursonas and you can also share your drawings of fursonas.
In addition to this, 321sexchat also has chat rooms dedicated to gay, lesbian, and trans. Well, all this seems peachy, but it isn't.
When you are on a free adult chat platform, it wouldn't be a surprise to find perverts.
You will receive a lot of unsolicited pictures of dicks, promotional messages from spam accounts that ask you to register on fishy hookups, and porn sites. The group chats mostly consist of people posing to be someone they are not. So the Eve you are having a sex chat with might be Steve in reality.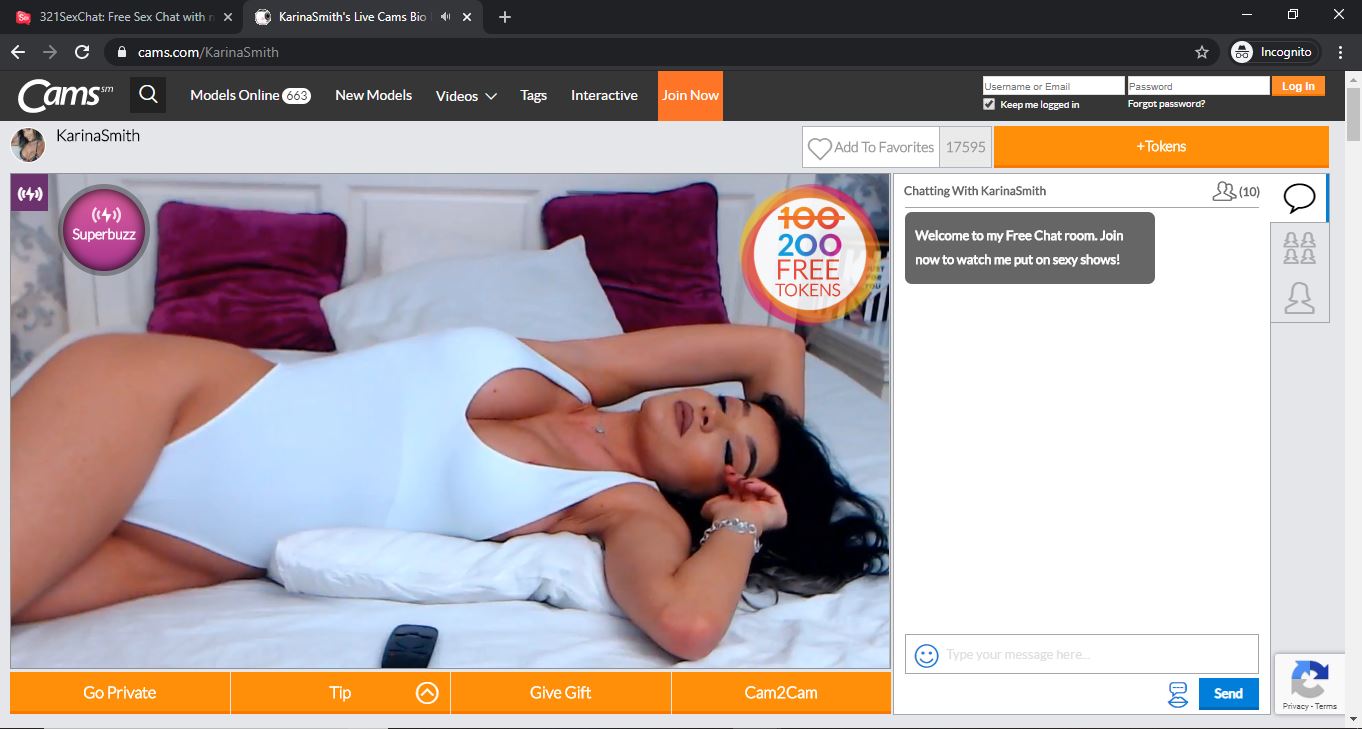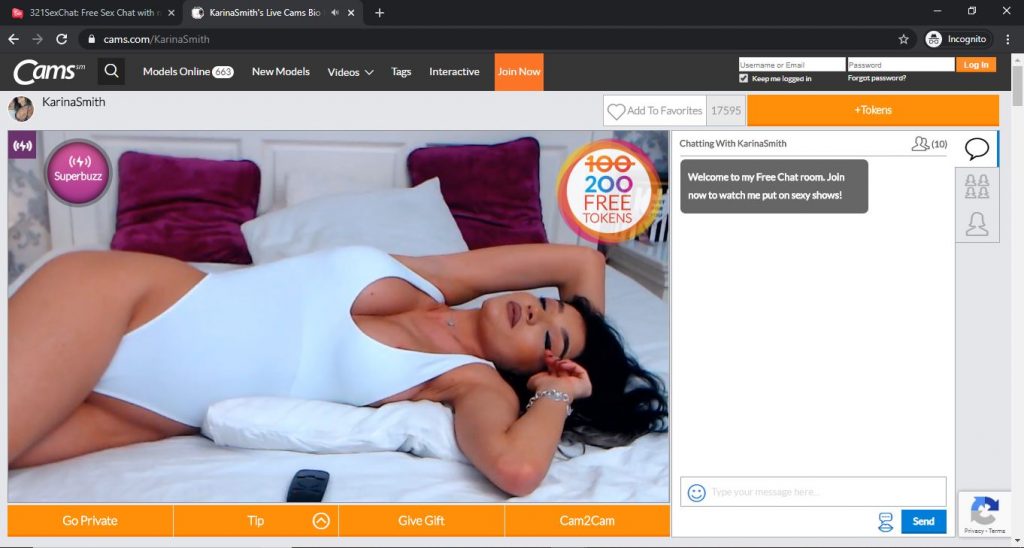 Moving on, let us take a look at the cams section now. These are the live sex cams available on 321 sex chat:
MILF Cams
Tranny Cams
Amateur Cams
Live Masturbating
Teens Cams
Couples Cams
BDSM Cams
Ebony Cams
Fetish Cams
Live Sex Chat
Housewife Chat
Nude Models
They seem to have a decent variety of cams for all porn tastes. However, 321SexChat is blowing smoke in our faces by featuring cams from a different site. That's right, the hot cam girls you see on 321sexchat are taken from Cams. Heck man, if you wanted to use the original adult cam site named Cams.com it's all good but first, read our cams.com review (in the link).
321SexChat Prices:
The live cams featured on this adult chat site are free and there is no need for registration, the same goes for the free sex chat rooms. Any live cam you click on will take you to the Cams page, which clearly shows that 321SexChat is an unreliable site.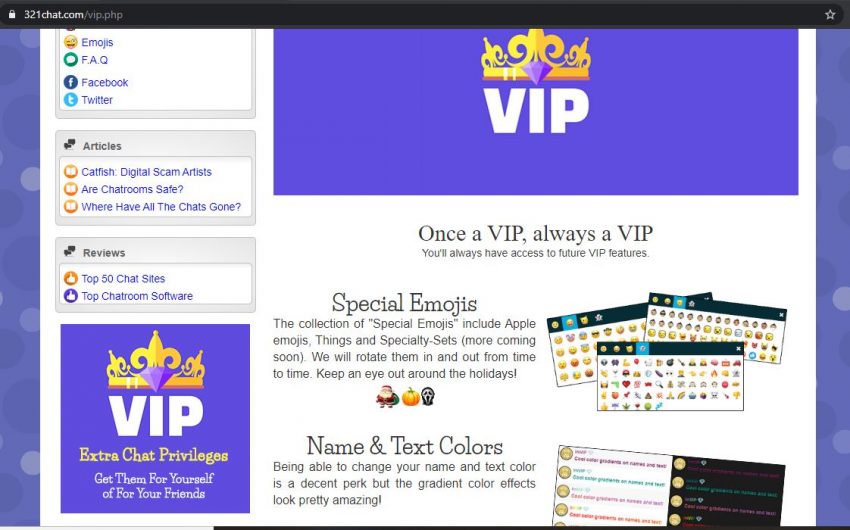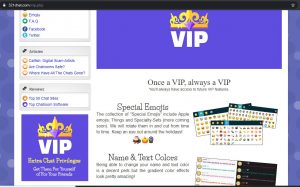 VIP Membership:
321SexChat is undoubtedly a swindle that asks you to pay $20 for a lifetime VIP membership that offers you nothing. A VIP member gets extra emojis, can change the text color and these features are worthless in my opinion. Seriously, who cares about the text color on a sex chat site? The truth is that 321 sex chat has nothing useful to offer and VIP membership is just its poor attempt at extorting money from the users.
321SexChat Findings & Site Summary
321SexChat is a substandard website that has over-the-top icons and a poor site interface. Not to mention the annoying ads that direct you to shady dating pages. You will find some articles that honestly don't add any value to the site.
The major drawback is the lack of valid age verification which makes 321SexChat.com an unsafe place to be in. 321SexChat which is similar to Omegle doesn't require any registration which means you can simply give a fake username, age, and start chatting.
Not many parents are aware of the fact that their kids access unsafe sites like 321SexChat. While the idea may seem harmless since it is online, the consequences can be grave. So I would ask adults to stay away from this site as well and opt for legitimate adult chat websites.
It is quite obvious that 321SexChat with its gaudy appearance, annoying ads, and inferior user interface makes it a pathway to nuisance. It loses its essence and annoys a user to the core.
The chance of finding one fun conversation amidst the sea of pervs and spammers is next to impossible. So if you are looking for a sex chat that is legitimate as well fun, then you should check out Chaturbate.
Furthermore, if sex chat is not your thing and you want something more intimate, go ahead and explore the top-notch adult cam site Streamate.com. We have reviewed Streamate, breaking down its features and prices, and concluded that it offers the best online porn experience.
ImLive.com is another favorite we recommend to those who want to witness drop-dead gorgeous models stripping and masturbating. Likewise, I would like to stress that low-grade sites like 321sexchat lure people with the word "FREE" and it is ridiculous. The live cams featured here are also not original, so there is absolutely no fucking reason to visit 321SexChat.
Why would you want to risk yourself into an interaction with a minor? This site also has a lot of ads that might be malicious. Therefore, maintain a safe distance from 321SexChat and go with the legitimate options we have recommended.