The PornDude is a review site about all the porn sites available across different countries and regions. It also gives a lot of varieties to the porn category or we can also say adult cam category.
Our earlier impression of ThePornDude isn't great, to be honest. But anyhow, let's dive into the porndude review site and check the reality of it.
ThePornDude Review: Biased & Obsolete Review Site!
First things first, PornDude was written with a decent amount of research and practice. The presentation could have been better in many ways, however, it's an ad-free review site, that's a welcome approach.
Adult dating and adult cam industry are unbelievably growing fast. So, when a site like ThePornDude mentions it has reviewed over 1000+ sites, obviously we have to look at the quality and legitimacy of the reviews. In that case, ThePornDude has definitely fallen behind.
Every porn site we check online has updates every 3 months, so it takes a humungous effort to cover all aspects of the best porn sites all over the world. ThePornDude looks weak on a lot of important factors that keep the reader engaged and believe it's a legit review.
Here are some of the basic features any porn reader would care,
The simplicity of Porn sites review
Ease of access inside the review site
User (Reader) experience while reading the best porn sites review
The originality of content
Suggestive methods (If something is bad, recommend readers a better porn site)
Now let's take a look at the homepage of the Porndude site compared to our site, simpler things are better.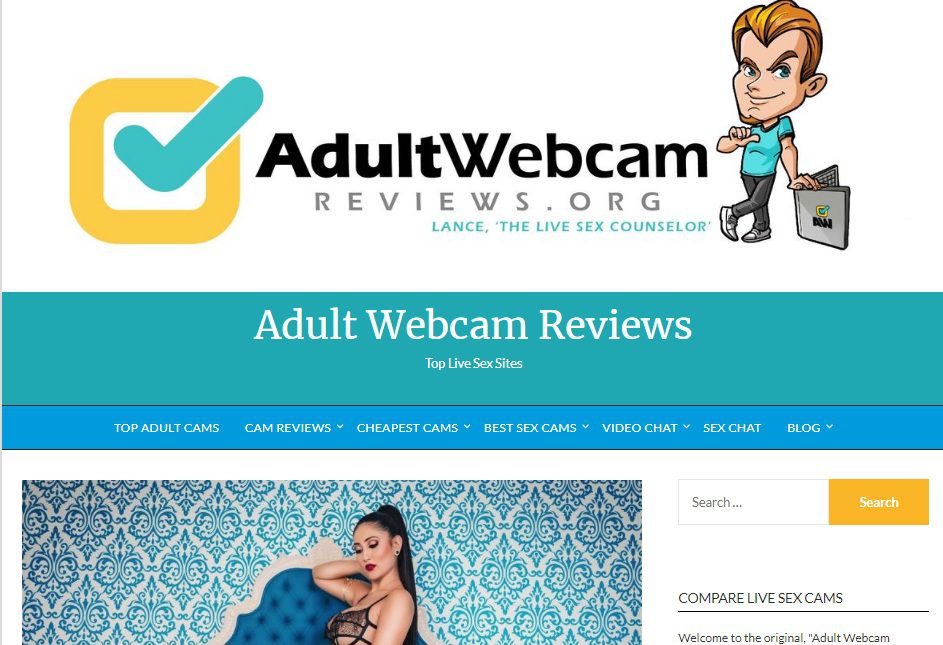 Make no mistake, those features are actually super important. Readers are extremely straight forward and then don't want half-cooked reviews. ThePornDude happens to have FAILED covering these aspects.
Not to brag, ThePornDude is being biased over a lot of sites. Well, that's what the porn dude is all about. Whereas, our site Vince the reviewer has been dead straight and doesn't have to be afraid of speaking the truth.
We have been giving a more transparent approach in writing reviews, take Camarads, or the PornHubLive site for example. When we find a site that's bad, we write exactly what it is.
Look, buddy, it's not about writing 500+ reviews of different sites, it's all about nurturing and giving exactly what the readers want. We must say the porn dude should stop manipulating facts and direct readers to go for a useless site. That's real bad mate.
PornDude stopped thinking about readers and only focused on giving attention to paid owners. What a jerk! The Porn Dude is currently not the best place to visit for sex cam reviews. Jeez! I would rather spend enough time on Streamate.com for a streaming hot sex cam experience than visiting PornDude again.
ThePornDude Features:
Features are the crux of every porn site reviewer, and guess what? ThePornDude has stuffy content that's giving readers a spin on the head. Why can't they make it an easy and simple and straight approach? The answer is simple, they've always been siding parts with so-called best porn sites that pay money. That's the reality mate.
Here's one more thing that was pretty messed up by the porn dude site, they categorized a lot of porn sites, paid and free porn separately. That's fine, but there isn't enough readers engagement there. There are no ratings given for the best porn, top porn sites, or best live cam sites. Why? They want readers to waste time in the porn dude.
ThePornDude hasn't changed a darn over the years and thus making it a boring place for porn and adult cam readers.
However, we do like the sorting out sites based on different types,
Free Porn Tube Sites
Amateur Porn Sites
Live Sex Cam Sites
Sex Dating Sites
Top Premium Porn Sites
The PornDude is available in 25+ languages, which is a unique feat compared to others. As a reader, you can search for different reviews just by typing the keyword in the search box that is available on the site. But new and updated reviews are not explained. That's pretty upsetting.
With over 1000+ adult porn sites reviewed, it's quite surprising the porndude didn't touch the topic of free adult videos and free sex movies. Nevertheless, the important thing in porn dude lacks clarity. When we read porn reviews, the readers should visualize what we are talking about. Be it a website, app, or movie.
Let's compare how Streamate.com reviews are done from porndude.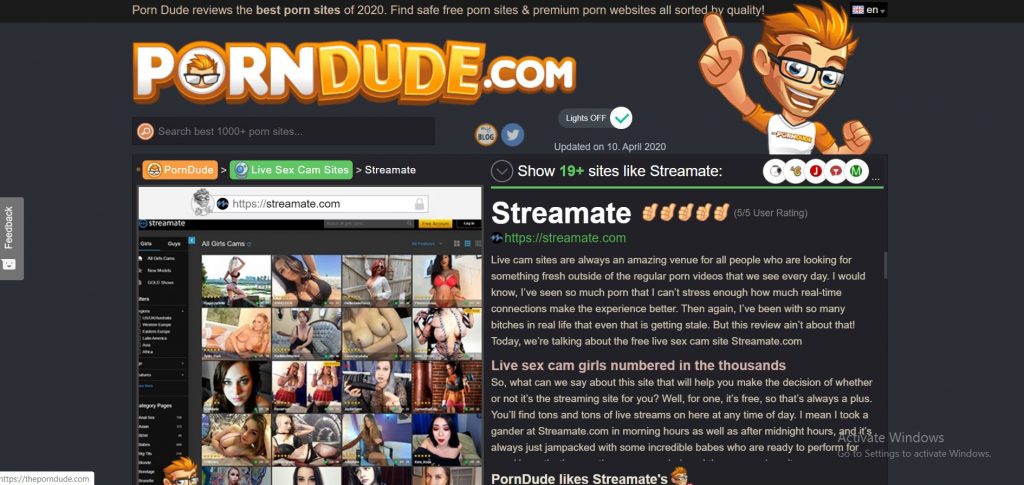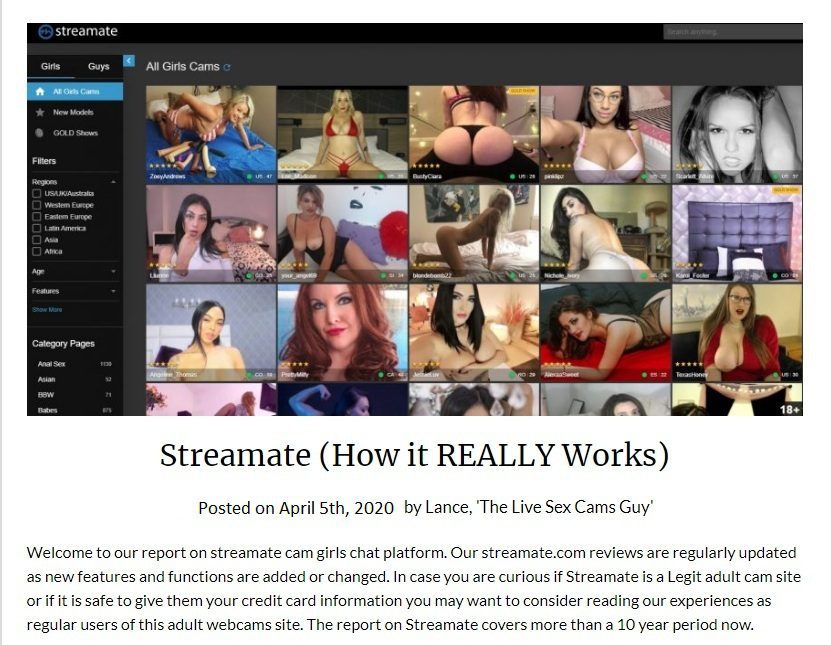 All we are saying is The PornDude has become an Uninteresting place to read about sex cam site reviews. Check out Vince for the best live cam sites, sex chat sites, voyeur cams, and much more.
Vince had exposed a lot of sites that happen to be tagged as best, but in reality, they're not. Here are some examples – AsianBabeCams, isexychat, and DxLive (review at the links).
ThePornDude Findings & Summary:
Sometimes, a site can give us confusion just because of too much stuff content. ThePornDude is one among those, it can be tagged as one of the front runners in sex cam reviews, but over years it has become an unattractive place and biased review site in the market.
All other useless features from the porn dude are just a marketing tool to jump ahead of everyone and differentiate better. Just to be clear, ThePornDude has nothing great overall. It's a mere old-fashioned site with old-fashioned writings.
We as a reader get a feel like some porn-addicted college guy wrote for the porn dude site. Lacks professionalism and all we can read about is porn and just porn. It's been a dreadful experience.
Vince does not talk about 500+ useless cam reviews like the porndude. I discuss the legitimate and only the important and popular cams with great attention to detail. Take a leaf out of by checking the Streamate and Chaturbate (review at the links). Very detailed and unbiased review.
Not to brag, Vince the sex counselor knows how to write a detailed review that is informative and helpful for adult and porn readers. I hear you asking for the best sex cam site, well, gotta say I am a huge fan of Streamate.com