Is Babblesex a safe adult chat site? Read our review and find out the risks involved before you consider joining this so-called free sex site.
In today's fast-paced life, we want everything on the go. When it comes to dating and hookups, virtual connections are becoming more mainstream, because, let's be honest, we don't have the time to keep up relationships in real-time.
Cybersex is all the rage these days but do you know why? One of the major reasons people incline towards sex chat online is anonymity.
As someone who has been getting off on adult chat sites for years, I can say that it is the best form of immersive virtual sex. Y'all know how much I enjoy sharing my love for adult cam sites but I also spill the beans about hoax sites that market themselves for offering free sex chat.
So whether you are an avid user of sex chat sites or just discovering them, here's a review of Babblesex that sheds light upon how it is taking its users for a ride.
What Is Babblesex?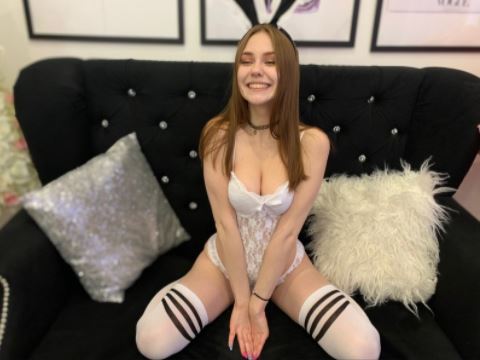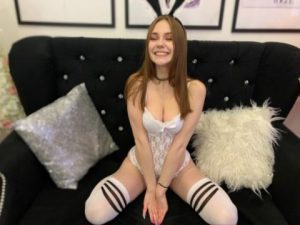 Babblesex is an adult chat community for people looking for free sex, casual dating, and hookups. Anybody who is looking for a no strings attached relationship can find sexy women on this site.
Different modes of adult fun are available in the form of sex chat, webcam sex, phone sex, and more. The majority of the people using babblesex are from the USA and you can find around 200 users online at any given time of the day.
Users can exchange or post photos, interact with each other via yahoo, skype, or MSN.
Signing up on babblesex.com is free and is required if you want to message a fellow user. You have the option of viewing the members by their genders.
Indeed, the set up of this sex chat site looks quite promising, and initially, I was pretty juiced up to explore it. As I got deeper into its functionalities and features, I found a lot of unsettling facts.
Babblesex Features
Homepage: 
The design of the homepage is basic and there are not too many navigation buttons. As you can see in the screenshot below, babblesex is associated with many shady hookup sites which is why there are ads everywhere.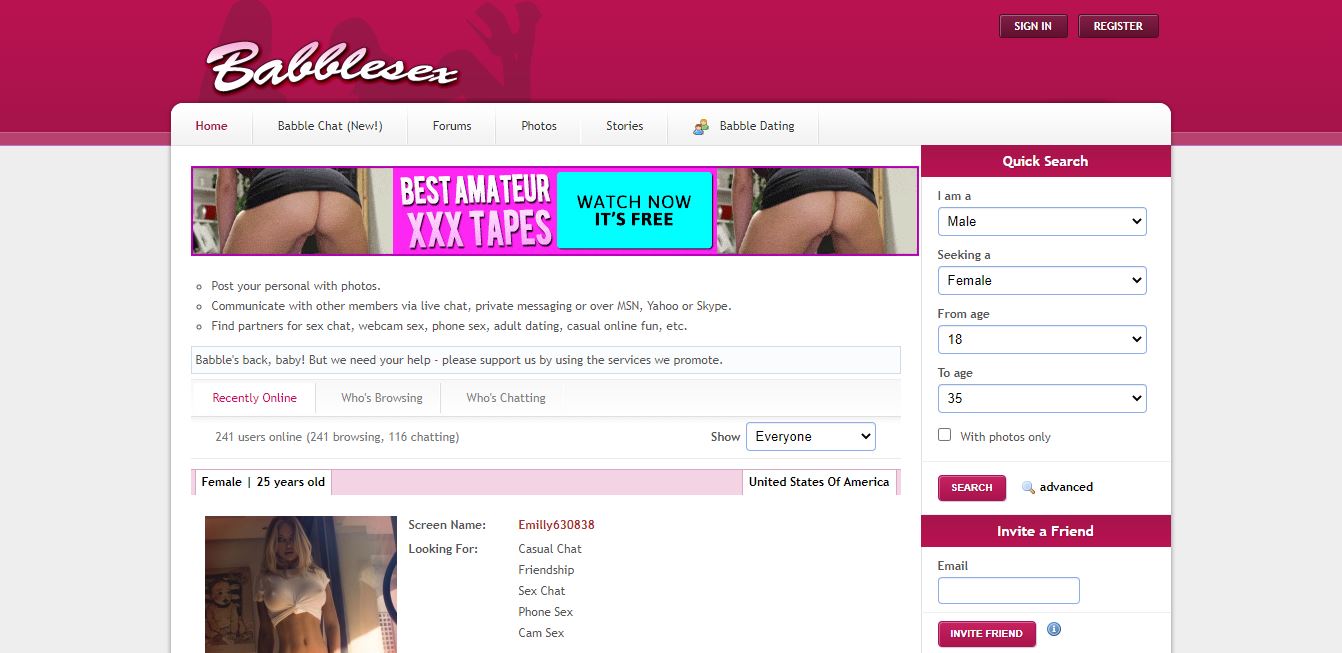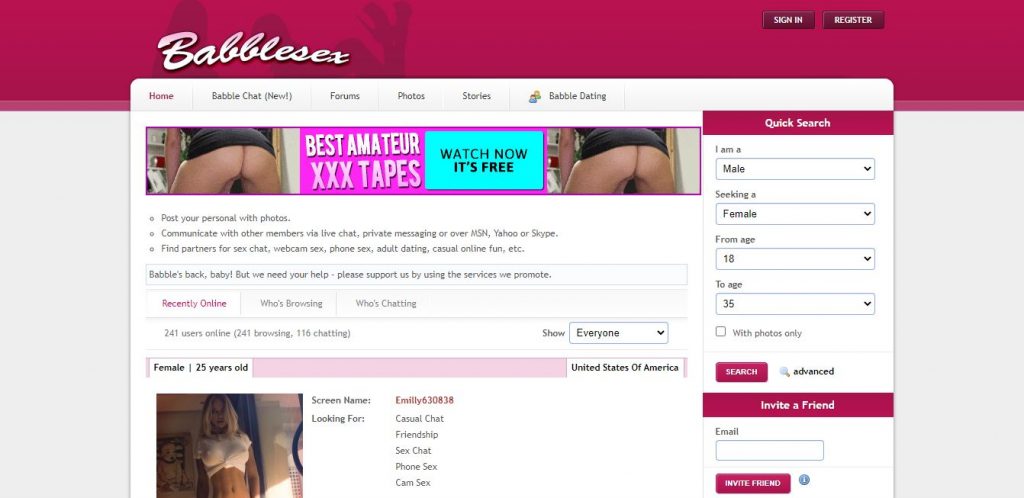 Signing up:
You have to fill a registration form that requires a screen name, password, and email address. The next step is to agree to the terms and verify that you are not a bot.
Quick search: 
This is an easy way of finding someone of your interest. You are supposed to specify your gender and the gender you are looking for followed by the preferred age range.
Forums:
Users can participate in various discussions about sex, fetishes, roleplay, and more.
Photos: 
In this section, models post their erotic and sexy pictures along with a description of them. I did come across some hot chicks but to be frank, I have seen better.
Stories:
If you are a fan of expressing your carnal desires, you can use this option and post stories. After going through a bunch of the stories here, I felt myself zoning out.
The writings are nothing like you would expect from a steamy romance or erotica.
Free sex cams:
This section is nothing more than a swindle. When you click on it, you are directed to a sketchy page that is filled with spam content.
Never share any personal details like card information or email address on such platforms because these shoddy sites sell your data to other sources.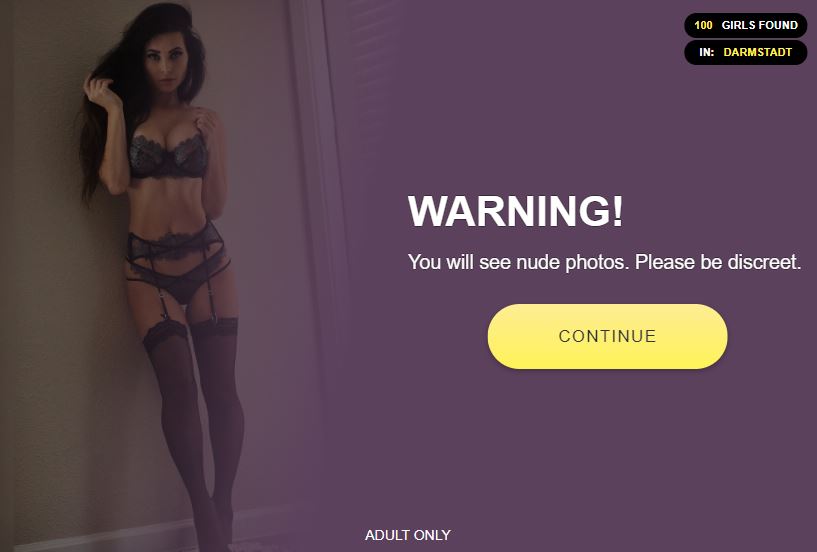 Babble Dating:
This page is a hoax to deceive users into registering at dubious dating websites. The pictures you see on the site aren't genuine and it's so disappointing to see vulnerable users falling for such tricks.
Model Profiles:
This erotic chat site claims to offer hundreds of ladies who are ready to offer free sex but that's hogwash. Most of the profiles are fake and the images are stolen.
So if you want to avoid being part of a scam, the best thing you could do is ignore babble sex and move on to some actual live cam sites to get your rocks off.
Sites Like Babblesex:
Men posing as hot girls is common at sites like Chatroulette (review at the link) and if you want to avoid the awful sight of filthy dicks, keep away from Flingster (review at the link).
We have a list of the worst random chat sites that are a complete no-no.
Now, if you want to get off on raunchy live streams, check out BimBim (review at the link) which is a brand new live cam site.
Babblesex Conclusion: Is It Worth Your Time?
Babblesex is mediocre and when it comes to adult chat, there are far better options available in the adult entertainment market.
Finding a genuine profile on this site is a tedious task and frankly, it isn't worth the trouble. In my opinion, Streamate.com is a safe and popular webcam platform to help you fulfill all of your carnal needs.
What I personally love about it is the excellent streaming quality and a diverse selection of cam girls.
Likewise, one of the largest sex communities flooding with the best of adult chat is Chaturbate.com. Each day, you will see thousands of beauties performing live without asking you to pay a dime.
It's simple, instead of being skeptical about using sex chats, stick to authentic platforms and you will never have to worry about being ripped off.